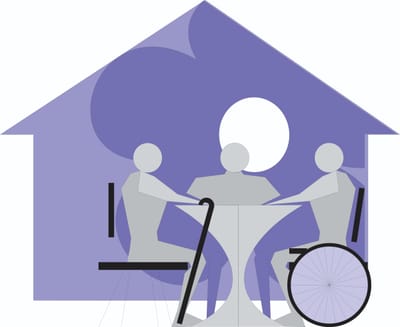 This is a whole new Concept of housing for older adults, people with cognitive decline and even people with dementia.
We perceive that current system doesn't satisfy the minimum needs of older adults, there fore, we decided to develop a new vision of life for older adults, people with cognitive decline and dementia.
The new concept is designed to older adults and people living with dementia that want to have organized life in community, independent but stimulating, that need support and help, that want to age together with partner but not in nursing or retirement home. This model offer overcoming problems with which meets people living in nursing homes and to solve problems of people living in own homes alone or with partners.
The new Concept offers this new vision throughout a way of housing and care that didn't exist till now. It improves the quality and provides dignified continuation of life without fear and uncertainty what the future will bring.
The Concept should overcome the problems of society faced by the elderly and related to access health care and social programs and the provision of care in case of illness and loss of some function.
It is a cost-effective way of life for the elderly. Living together neutralises the shortcomings of their own homes and conditions in which they lived and makes it easier to meet their needs.
This project will be piloted in Sarajevo and will be the part of a huge project that Centre for dementia want to implement in Region of SE Europe.
Look at video on the next link:
https://youtu.be/4s0Ksni8gFs